Hello! It has been a while since I last blogged and worked on my BuddhaHand collection.
You see, I hit the Magic-50 mark and I decided to "SEE" Europe to test out my NEW ORGAN parts. (see below photos later?). They say life starts at 50.
Also lately I noticed my relatives & friends have problem recognising me. Just the other day, a friend walked passed me. I pretended not to know him just to "test" him out. 30 second later he called to ask if it was me at the mall he thought he saw. I can't blame him as he only recognised the old Kim Wong with thick glasses for more than 20 years.
So here I am now without the ugly, heavy and thick glasses!
Think I have an explanation to do here or it will get very embarrass for friends starring at me and ask, is that you Kim Wong?
When I turned 50 last year, I wanted to do 3 things to be "reborn".
1 - Go bald head on my birthday.
2 - Reborn with new eyes.
3 - Get a new birthmark - A Tattoo!
I went bald head like a new baby and my family was shocked, thinking that I am going to be a monk! They thought this has something to do with the BuddhaHand I am doing here.
Me went botak like an egg minus the 9 dots @ 50 on 18-4-2010!
I had glasses on since I was 10. The power kept increasing and increasing. In 2007, I stopped having my eyes examined. The last reading was (R)-9.50 and (L)-7.50.
I have long dreamt about going without glasses. More so for the conveniences and also to look at the world again like we were born to be with our natural eyes.
When laser eye correction was first introduced in Malaysia, I had always wanted to fix my vision. Then I heard all kinds of scary horrible stories from the local opticians, doctors and sceptic friends:
" Aiyoo, they said you can go blind forever"!
That was like 10-12 years ago.
When I turned 50, I thought I need to rebrand myself for my 2nd life with "new" pair of eyes.
So I went about doing some research on the internet and asking around. By now they are like 3-4 laser vision correction centres in Penang. All claimed they are good and cheap!
Aiyoo, which one to choose?
Then I heard my two young pretty nieces have their vision 100% corrected by Optimax. Later, their mother also have her eyes corrected at Optimax. I remember my sister-in-law was so happy with the whole new experience, on the 2nd day after the procedure she invited me to a Rm75.00 buffer dinner at E&O Hotel.
With the good feeling, I visited Optimax at Island Plaza, Penang for the screening. Guess what?
I was surprised after 50, my eyes are still in good healthy condition with just a slight yellowish lens. The tissue is so so healthy and clean.
I was recommended to do a LASAK procedure instead of the normal LASIK after a good total explanation and consultation with Dr Lee. You can google more about LASAK.
My D-Day was 12-11-2010. The rest is history - just 20 second (10 second for each eye) with Optimax's professional team hand, I was "reborn" with new eyes!
A "NEW ME" - 3rd day after the D-Day
Ok, I am sure you want to know is there a risk to go for this procedure at my old age and both eyes at the same time.
Frankly, in my opinion it is a 50-50% balance scenario.
50% lies with Optimax here. You see they would not do it unless you are a good candidate. Here you are in good hands of Dr. Lee who has 12 years experiences in this business. In fact, I don't mind paying more even though other centre offers me a better deal. You simply don't risk your precious eyes on cheap offer!
One thing I like about Optimax is they treat you like their value customer even after the procedure. Most of the staff there know me by my name and they are very cheerful, friendly and polite. They call a very forgetful me to remind about my appointment. Their 6 months after surgery follow up is excellent. No more hidden cost and nuisance.
During my follow up visits, I have been asked twice by Dr. Lee if I have any problem driving at night. I told her I have been driving regularly since 2 weeks after the procedure with perfect night vision - no halo and radial light problems. I can see clearly the car number place and road signs. She was surprised and impressed with my results so far.
The other 50%? It all depends on you.
That you have to psychologically prepared for it. Both physically and mentally.
Like for healthy eye tissue, I take daily 2000mg of Vit. C, Omega 3 fish Oil pills and A-Z multi-vitamins. I also do regular meditation to prepare for it. I have done this for many years for the D-Day to come. I can really go cheong-hey (long-winded) here.
But if you dropped me a line, I would love to share with you more on the "before and after" on my experiences.
My advice is if you are going for laser correction vision, go for the very best in the business, go to Optimax. Trust me, you are in good professional hands. If they have done it right for my nieces, my sister-in-law, many more success cases and myself.....you can't go wrong here.
Hope my experiences here will help you to achieve the same dream here - Yes, a whole new experience of NEW VISION, NEW WORLD AND A NEW HAPPY LIFE.
Go for it?
Ahemm....make sure you mention I, WONG KOOI KAM / File No: P6536/10 recommended you. If you are from Penang, please give me a call on 017 476 7788. Over a tea tarik or Char keow Teoh, I will share a "little secret" with you.
Oops! And now see what I did first to "test out" my NEW VISION. Yes, I got excited and took off for a month WINTER holiday touring London, Berlin, Paris, Rome, Florence, Pisa, Venice, Milan & later a month SUMMER holiday in Sydney for CNY. That is what we are talking about celebrating and enjoying a new 2nd life.
Please enjoy my photos below and thank you for visiting my blog.
P.S. I am looking forward to make more master pieces BuddhaHand.
Avoiding pigeon's shit getting in my new eyes @ not so white London - 20-12-2010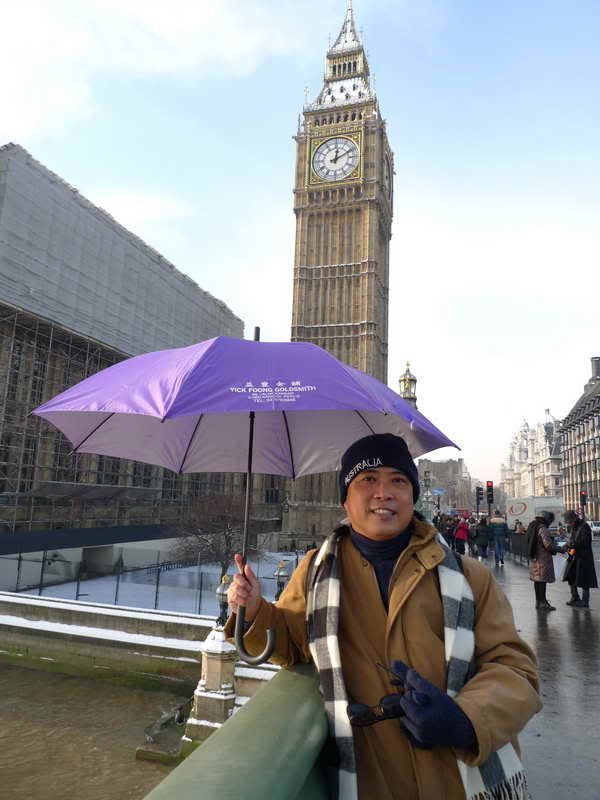 Survived -11 & tasting snow for the 1st time @ White X'mas Berlin, Germany - 24-12-2010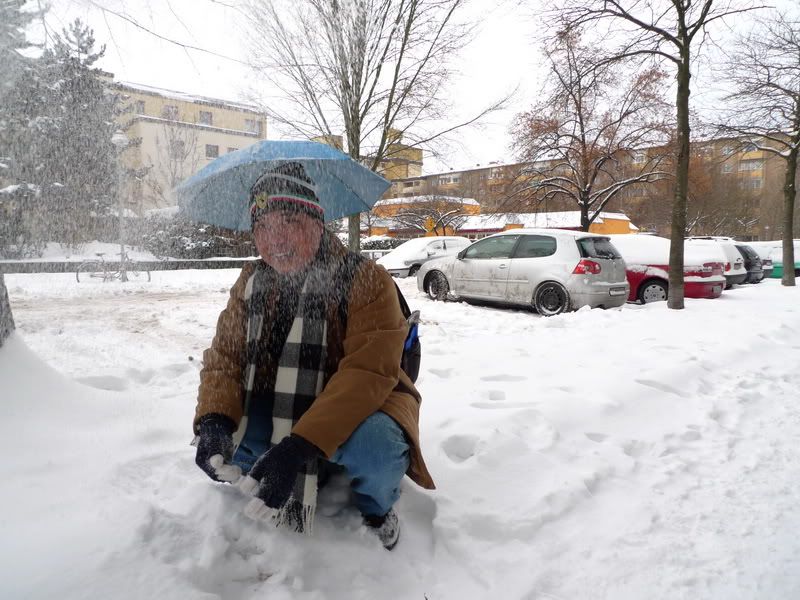 Oh! What a feeling...Paris. I stayed at Hilton but didn't see "HER" lah. 31-12-2010
Me stopping the mighty Roman Army march. (See the big guy hand signal?)
Can you see the Vatican City behind? Rome, Italy - 3-1-2011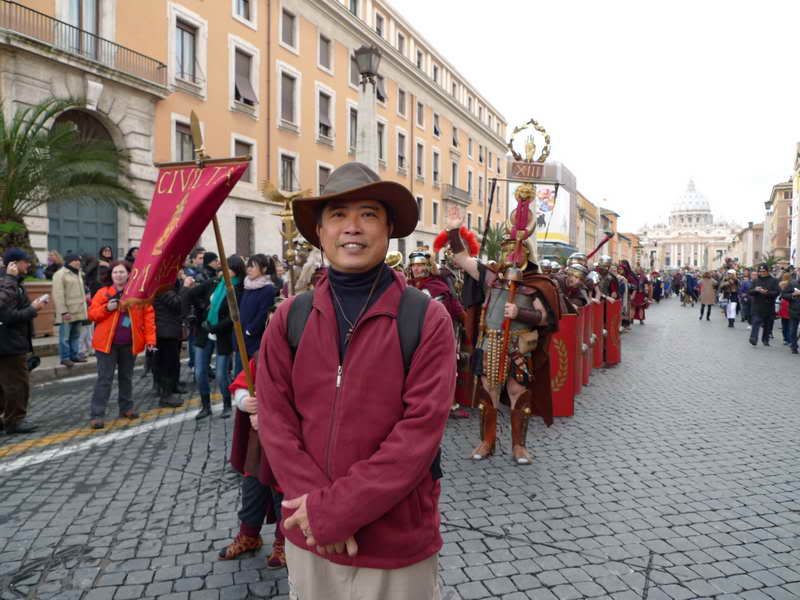 Imitate my idol Bruce Lee famous kick at The Colosseum, Rome, Italy - 4-1-2011
A life time dream to do sidekick here since "The Way of The Dragon" movie, 1972.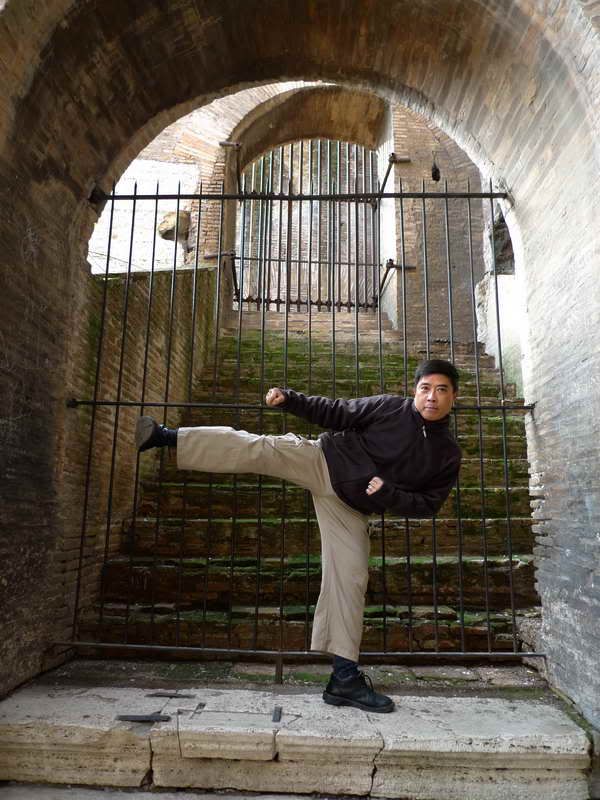 With David @ Florence, Italy. 9-1-2011.
Sorry, boy & girl. Uncle Kim kena censored this part.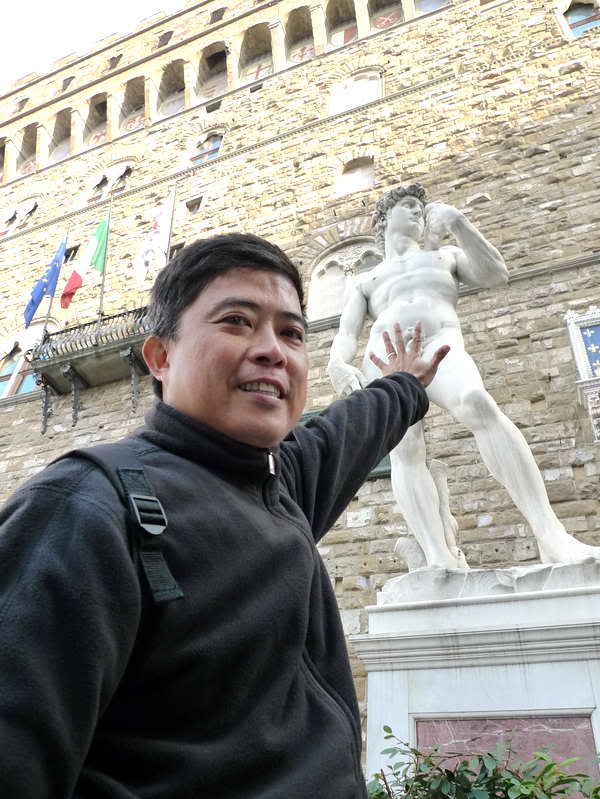 Admiring the most beautiful & romantic city on earth, Venice City, Italy - 12-1-2011
Water is everywhere but using the WC to add in more water is only 1.50 euro (Rm6.50)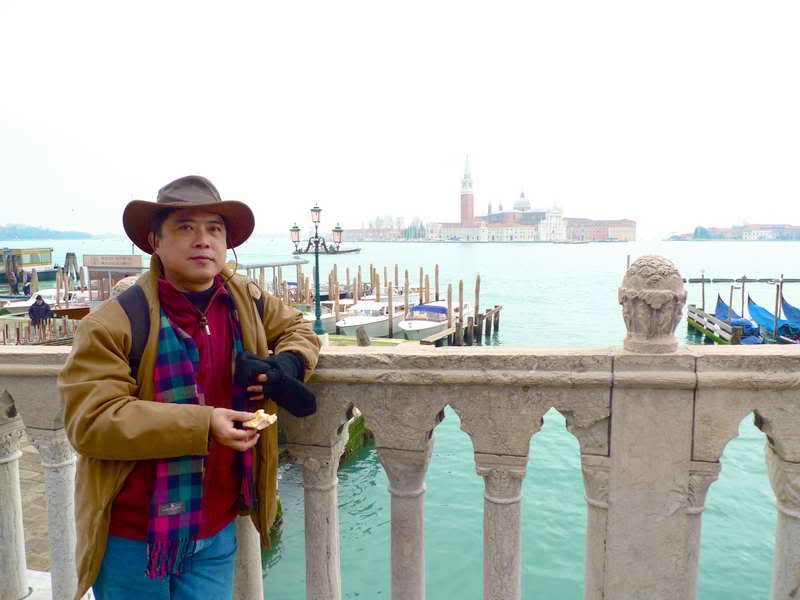 Wish I can go on board Queen E for the World Tour @ Sydney Harbour - 22-2-2011
Where are you, Mr. Da Ma Cai Big Sweep?
Nga...I'm not going to eat this poor fish. I threw it back into the water.
Enjoy a sunny day fishing with a RayBan @ The Entrance, Sydney 26-2-2011.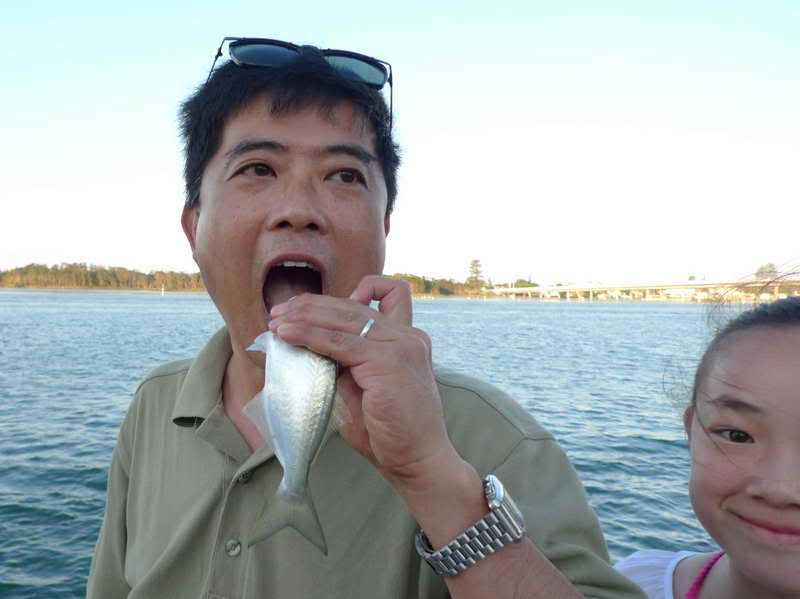 No more glasses, but mask is OK for me from now!